[ARCHIVES DU NOUVO]
[] NEWS [] [] 27072007[]
ERO BABAA
'pauvre nelly'
4 editions of 1
one sided 7' inch / lathe cut

[] NEWS [] [] july 3rd of 2007[]
//// 2 new releases in the galeri pusta world ///
O5O EL RO+O
!new:lp::available::lp:new!
proudly provided & coproduced by :
galeri pache / 14022007
les potagers natures / PoNa 41
commence par maman / 005
O5O EL RO+O
'mojon po'l agua' LP
(eng below)
retour de oso, mais oso jamais parti ..
2 eme lp, magnifique, sale, joli, cartonné... 15 titres mathématiques, anti calcul débile mental avec une étude sur la sexualité de l'amour perdu ?
peut etre.
Oso peut faire de la noise acoustique avec une guitare acoustique et même sans, de la noise anti chantée avec la bouche, du blues tubesque, péchu et frustrant, structuré et surcrié, vachement électrique.
et pis c'est re-punk..en groupe, à plusieurs, avec batterie bien pulsée (Mélo de glen or glenda..), harmonica saturé, bandes inversées, technologie refusée... c'est religieusement lofi et superproduit en fait.
'super poulex...' cd paru il y à 2 ans (galerie pache / potagers natures) était déjà un peu tout ça.. mais là, c'est bien le cran au dessus..
dosage parfait, un disque satanique du sud, païen, expé..et rock n roll..
enregistré à Bruxelles, Montreuil, decoupé ,masterisé et mixé entre Cherbourg et Bordeaux..
= track list =

side one
nada
queso de pija
pipillon
nager
le blues de mélo
enfant caca
j'ai que 17 ans




side two
leche con chocolate (mp3)
conejo
pajero
petit boogie
mamachucha
ptaquita part one
su madre la puta
tomado

Oso El Roto 'Mojon Po'l agua'
galerie pache 14022007
12' inch / limité 300 copies.
carton récup', linogravure = 300 exemplaires différents.
livret illustré / dessin / 8 pages format lp.
assemblé à la main ::: total diy !!!
return of oso, but oso never gone.
2nd LP, splendid, dirty, pretty, hard-bound… 15 mathematical titles, anti mental weak calculation with a study on the sexuality of the lost love?
may be.
Oso can make acoustic noise with an acoustic guitar and even without, some anti noise sung with the mouth, or hit sweaty blues songs, energic and frustrating, structured and over shouted, bloody electric. and worse ... and this is punk again... as a band, with well pulsated battery (Mélo of glen or glenda...), saturated harmonica, reversed tape, refused technology…
it is religiously lofi and superproduced in fact.
"super poulex…" published cd released 2 years ago (galerie pache/potagers natures) was there already a little all that. but there, it is a new and higher step...
perfect proportioning, a satanic of the south, pagan record, expe. .et rock'n'roll .
recorded in Brussels, Montreuil, cut out, masterized and mixed between Cherbourg and Bordeaux.
[commande / order]
11 euros, port compris, included postage
chèque ou paypal
merci / thanx
http://www.myspace.com/
osoelroto
ERO BABAA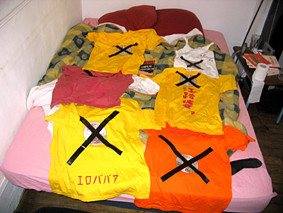 ERO BABAA
'live @ la jarry'
cd-r + tee-shirt / edition of 10
galerie pache 22062007
(eng below)
premier live de toute la vie de ero babaa.
7 minutes, de pure furie fidèlement enregistré sur aiwa k7 voice sensor avec en invité spécial enrique vega (de hippy wizz) à la basse électrique. Ero Babaa, c'est un sax plus ou moins préparé privé de free jazz pour cause de feedback et une guitare + guitare victime plus ou moins préparées avec cordes frottées qui sonne desfois jimi hendrix au contact de rembarde metallique.
Ero babaa jouait aussi de la radio durant ce concert.
enregistré live @ la jarry, vincennes (94), le 26 mai 2007.
10 exemplaires avec tee-shirt de couleur vive, peint à la main, en japonais et
à l'encre sérigraphique.
sept minutes quarante huit secondes.
download the entire live !
ero babaa : live @ la jarry (mp3)
first live of all the life of ero babaa, new paris based noise duet.
7 minutes, of pure fury accurately recorded on aiwa k7 voice sensor with as a special guest enrique vega (of hippy wizz) on electric bass. Ero Babaa, it is a more or less prepared sax deprived of free jazz due to feedback and a guitar + victim-guitar more or less prepared with rubbed cords.
Ero babaa played also radio during this concert.
recorded live @ la jarry, vincennes (fr,94), on May 26, 2007.
10 specimens with tee-shirt of sharp color, painted with the hand, in Japanese and with serigraphic ink.
seven minutes forty eight seconds.
[commande / order]
7 euros, port compris, included postage
chèque ou paypal
merci / thanx
please, check out also their page w/t 4 titles about 'pauvre nelly' to be released on galerie pache as lathe cut 7'inch (4 edition of 1)
myspace.com/
erobabaa
[ARCHIVES DU NOUVO]
[] NEWS [] SOON [] may 27th []
on da pusta galeri, available soon, an outstanding selection of free electric archive documentary noise ./.
dubplate / recorded vinyl / ultra limited edition.
=BEFORE SUMMER=
NOISE PROVIDED BY TWO BANDS,
BRAND NEW IN THE GP CREW
PLACENTA POPEYE


ERO BABAA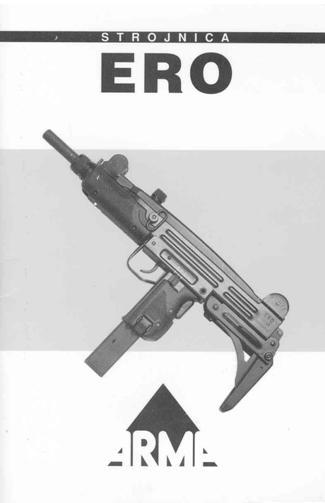 ] news :::: fin [end] off april 2007
je te recommande ceci CI dessous :
WWW.SONIC PROTEST.COM
festival / rassemblement / bruit / vazy

STAND DISTRO SHOP GALERIZ PACH SAMEDI 5 & DIMANCHE 6 MAI @ MAINS D'OEUVRES A PARTIR DE 16H + DJ SET CHONCO FISH CHICKEN AKA COCHON POULET
ƒ¢ ' ƒ¢ · ƒ¢ · ƒ¢ ƒ¢ ·ƒ¢ · ƒ¢· ƒ¢ ƒ¢ ·ƒ¢ ·
ALSO
TWO NEW 'RAMPAR' ep artwork / agripon
have a look

copy 7 / 12

copy 6 / 12
· ƒ¢ ' ƒ¢ · ƒ¢ · ƒ¢ ƒ¢ ·ƒ¢ · ƒ¢· ƒ¢ ƒ¢ ·ƒ¢ ·
update march 31 / deumillesette
have a look
/ 'rampar' ep artwork / agripon

copy 4 / 12
copy 5 / 12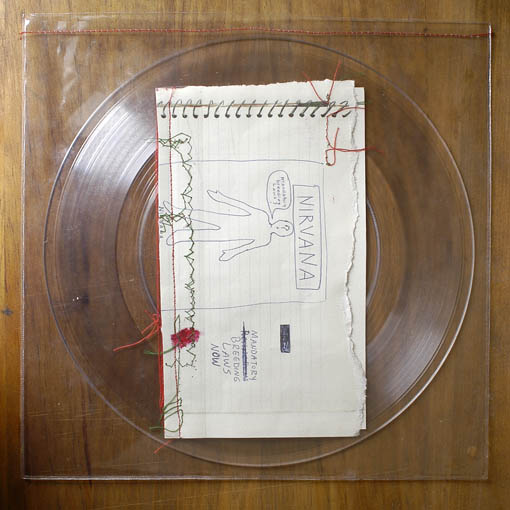 copy 3 / 12

couture, assemblage, déchirage : lucie b & jf
foto : benoit
ŸŸŸŸªªªªªªªªªŒŒŒŒŒ∏∏∏∏∏∑∑∑∑√√∫∫∫∫∫∫∫

agripon
'rampar'
new ep
galerie pache 10032007
clear vinyl 10'inch
45 rpm

LIMITED 12 COPIES / 12 DIFFERENT ART SLEEVES

scan : benoit grimalt sur epson 4990
track list
a1- ALARME
a2 - RAMPAR(mp3)
-------------------
b1 - PARENT
3 new titles in a groovy lofi tamtam / darker noisy guitar & hysterical ejaculation of love.
3 new titles for the coming of the sun, celebration of black saturation basement, through the other side, the side of love.
3 new titles for you.
recorded january 2007 in paris & buenos aires.
please, feel free to listen to rampar track as 33rpm.
!!!extrem limited edition!!!
12 copies of a beautiful clear 2 mm, 10 inch vinyl !!!!

merci / thanx
[commande / order]
23 euros, port compris
chèque ou paypal
[le ton mité]
tour



photo Maïa
3 mars 2007
DIVAN DU MONDE PARIS
5 mars 2007
TBA - ITALIA TBA - ITALIA
6 mars 2007
TBA - ITALIA TBA - ITALIA
7 mars 2007
I SOTTERRANEI COPERTINO
8 mars 2007
LA TAVERNA DEL MALTESE BARI
9 mars 2007
FERMATA 23 CAMPOSANTO (mo), Modena
10 mars 2007
AREA SISMICA FORLI
11 mars 2007
STADWERKSTAD LINZ
12 mars 2007
RHIZ WIEN
13 mars 2007
DER WAGON STUTTGART
14 mars 2007
AUSLAND BERLIN
15 mars 2007
TBA - NORGE
16 mars 2007
TBA - STAVANGER
17 mars 2007
SPASIBAR OSLO
18 mars 2007
TBA - AARHUS
19 mars 2007
TBA - HAMBURG
20 mars 2007
TBA - DEUTSCHLAND
21 mars 2007
TBA - DEUTSCHLAND
22 mars 2007
BUNKER ULMANWALL BIELEFELD
23 mars 2007
ANTWERPEN -TBA
25 mars 2007
LA FERME DU BIÉREAU : CINECONCERT LOUVAIN-LA-NEUVE
22 avr. 2007
SECRET PARIS
[oso el roto]
tour
tournée avec LustCREW / mars 7

Mars 21
9 billards paris
Mars 22
chaudelande cherbourg
Mars 23
chez les gablé caen
Mars 24
la centrale bordeaux
Mars 25
collége solidaire chez lucho pays basque
Mars 27
nantes
Mars 28
ground zero lyon
Mars 29
raymond s bar clermont ferrand
Mars 30
l embobineuse marseille
Mars 31
toulouse

update précis :
http://www.myspace.com/
osoelroto




next release
o++ e+ R+++
still hot
new SHIT
for THE new YEAR
TG
'la nuit'
lp, 30 cm
pache 16122006
aprés un mois de tournée avec les vilains de radikal satan,
tg a enregistré un nouveau disque qui s'appelle 'la nuit'.
est ce que c'est parceque c'est sombre.?
en tout cas, c'est plus extreme, quatre morceaux bourdonnés, réverbérés et souvent glacial.. chargé, toujours proche du son du silo.. du fer...une émotion pesée, en deux temps, cherche pas le refrain, avec fade out quand tout est dit.
(guitare électrique, clavier, environ 25 minutes.30 cm. 33 rpm, limité 300 copies)
[commande / order]
11 euros, port compris
chèque ou paypal
merci / thanx
tg = un concert
10.01 paris
@ la générale
(w/ oso el roto, ?alos, tom & selleck)
infos : http://orgakliton.ouvaton.org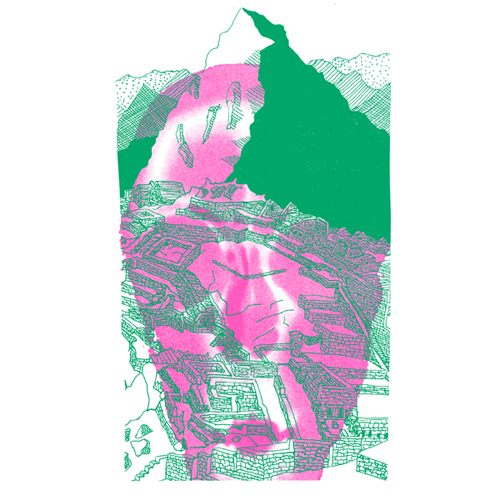 agripon+stuckometer
split lp, 30 cm
pache 02122006
AGRIPON


entre 8 et 11 titres sans titre..pour agripon (8 minutes 40),
hystérique, parfois ou souvent
insupportable, électrique & social, fuked up.. improvisé et plutot rythmé.. ça date de aout 2005 et ça tourne en 45..en 33 , pour un plaisir plus long.. et plus gras..
fais ce que tu veux.
"this is shitcore" sean baxter
new mp3 from new album
mp3 (live)
mp3 (pas live)
et aussi check out this short video
video hit single
STUCKOMETER
2 titres pour stuckometer (13 minutes 20), 2 guitares, batterie, basse...+ une bouche qui s'exprime et de la flute...
assez
sauvage et caverneux, violence plus prolongée, bruit, libre.. ca date de
septembre 2006 et stuckometer c'est un groupe de manchester..
ville des monkey boots.
lecture conseillée en trente trois tours.

new mp3 from new album
jodrell bank (in the palm of your hand) part 2
[commande / order]
11 euros, port compris
chèque ou paypal
merci / thanx